Vienna, 8-9 June 2017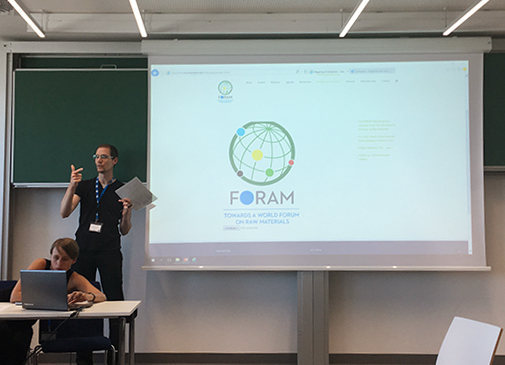 At a recent workshop with participation of international experts, it was concluded that for enabling effective and coherent access to global raw materials information it is vital to coordinate the activities of all stakeholders and deliver a clear and transparent roadmap towards implementing a common methodology. Experts working together in two related projects, MinFuture and FORAM, both recently funded by the European Union through the Horizon2020 scheme, met in Vienna to discuss strategies and ways ahead.
Global material supply chains linking the extraction, transport and processing stages of raw materials have become increasingly complex and today involve multiple players and product components. The MinFuture project, led by Norwegian University of Science and Technology, aims to identify barriers and gaps, assess existing model approaches for global material flow analysis and recommend a roadmap to enable a better access to global material information. For further information on MinFuture please visit www.minfuture.eu.
The MinFuture workshop brought together international partners from across universities, public organizations and companies to discuss challenges and gaps, deliver new insights and strategic intelligence into the materials flow information. External experts were invited to the workshop to provide input and to enhance cooperation and synergies between projects related to raw materials. The issues related to specific challenges for data collection, data quality and data harmonization, were discussed from four different perspectives,
1) Primary mineral data collection by Geological Surveys presented by Evi Petavratzi from British Geological Survey, Tom Heldal from Geological Survey of Norway and Leopold Weber from Geologie Weber,
2) Obtaining and harmonizing on urban mines in research projects, presented by Rupert Meyers from Yale University and Amund Løvik from Empa),
3) Material accounting and indicators from European Commission perspective, presented by Lie Heymans from European Commission and Philip Nuss from Joint Research Centre, and
4) Physical national accounts from trade perspectives, presented by Nancy Snyder from UN Statistics Division and Monika Dittrich from Institute for Energy and Environmental Research Heidelberg.
During the meeting, the FORAM representatives, Susan van den Brink (United Nations University) and Shahrzad Manoochehri (World Resources Forum Association) provided an introduction into the project and they demonstrated how to fill in the online form for the mapping of international multi-stakeholder initiatives related to raw materials (available at www.foramproject.net/index.php/google-form/). The MinFuture participants were encouraged to visit the online form and add information on their initiatives and/or to disseminate the link among their network.
FORAM will consolidate the information on initiatives in a global interactive map that will be placed on the FORAM website (www.foramproject.net). In the next step, FORAM will analyse the existing international activities, actions and programmes, to identify gaps, overlaps and common needs as part of defining a long-term vision to advance the idea of a World Forum on Raw Materials. Furthermore, FORAM is responsible to collaborate with other related EU projects and coordinate and explore the synergies between these projects.
At the upcoming World Resources Forum 2017, to be held October 24-26 in Geneva, and during the second Raw Materials Week, organised by the European Commission in Brussels, 6-10 November 2017, FORAM progress and the framework for its collaboration with other EU projects will be further presented and discussed. A pilot event will be organized in June 2018, venue to be confirmed. Write to foram@wrforum.org for more information.