FORAM 18 Pilot Event at the Prouvé Congress Centre
Located right in the city centre, just 1 minute walk from Nancy TGV train station and the public transport hub, the Prouvé Congress Centre is a latest generation High Environmental Quality facility. Including an exhibition hall of 3000 m2, 2 auditoriums (850 and 300 seats), 13 meeting rooms with simultaneous interpretation booths, a panoramic reception area hosting up to 1,200 diners and a public car park in the basement with 455 spaces, it is the ideal setting for organising and hosting all types of events.
Access to the Prouvé Congress Centre
Address of the venue:
Centre de congrès Prouvé 1 Place de la République 54063 Nancy Cedex, France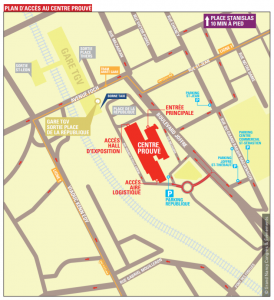 To make your visit easier, there are four available maps: Click here to view them.
Kindly be aware that there is a possibility of interruption of rail traffic in France. A so called alternating strike is going on, which includes the dates June 27 and 28, as can be seen on the following website https://ch.oui.sncf/en/train/strike. In case your travel is affected by the strike, please let us know by email (jelena.vidovic@eurogeosurveys.org / shahrzad.manoochehri@wrforum.org ) or consider choosing trains that are not affected by the strike or even other means of transport (e.g. interregional buses).