Brussels, 8 November 2017 In a joint meeting at the EU Raw Materials Week the European Federation of Geologists (EFG) and the Swiss-based World Resources Forum (WRF) have initiated strong action towards more cooperation amongst stakeholders across the world on raw materials research, dialogue and communication. Being consortium leaders of respectively the Horizon 2020 INTRAW and FORAM projects both organisations joined hands in organising a raw material dialogue roundtable on cooperation possibilities with interested partners from Europe and beyond.
EFG's President Vitor Correia started the session by welcoming the official launch of the International Raw Materials Observatory, a non-profit organisation which was launched on 7 November. The Observatory has been created to enhance worldwide cooperation on mineral raw materials' research and innovation, education and outreach, industry and trade and recycling, management and substitution of strategic raw materials. The Observatory is the main outcome of the EU Horizon 2020 funded project INTRAW. The new organisation will offer its members foresight dialogues with key influencers and match-making services for organisations active along the minerals materials value chain.
WRF Program Director Mathias Schluep introduced the FORAM project which is said to be the largest collaborative effort to date for raw materials strategy cooperation on a global level. Built on an EU-based platform of international experts and stakeholders, it enhances international cooperation on raw materials policies, making the complex maze of raw materials' related initiatives more effective. The initiative is supported by a large number of additional leading organizations, including EuroGeoSurveys, United Nations University, Clausthal University of Technology, and others.
Other participants in the roundtable were Mr. Wang Meng from Young Earth Scientists (YES) Network, China, Mr.
Mitsutaka Matsumoto from Advanced Manufacturing Research Institute, Japan, and Ms. Deborah McCombe from RPA, Canada.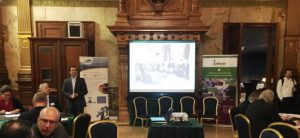 Looking at upcoming trends – can we expect to have a "Tesla" in the mining sector – product life extension could be supported by companies Mitsutaka stated, as long as they are ready to change their business models.McCombe added that mining companies that are planning to change their traditional methods can count on continued support by investors, who are willing to work with companies that care about Green Economy and resources for future generations. Key point for them is data reliance, disclosure and free flow of information.
Schluep commented that exporting waste for recycling in developing countries can lead to similar tensions in public opinon as the mining of primary materials. Waste can however be a valuable resource and provide business and decent employment opportunities, as long as the practices are improved and formalised, such as according to the recent ISO Guidance Principles for the Sustainable Management of Secondary Metals, which were launched at the Basel Convention Conference of the Parties in Geneva. These guidelines guide operators of secondary metals value chains, including the informal sector, in efficient and credible implementation of recycling practices, in particular in emerging and developing economies.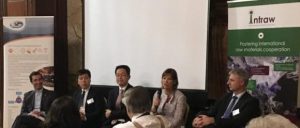 According to Wang Meng China needs to benefit from technology transfer in order to remain competive. Almost 99% of the global rare-earth elements (REE) are produced in China. This is accompanied by serious environmental impacts. The same problem applies to the recycling methods that China is applying. It is essential for China to invest in transferring technologies for extraction of both primary and secondary raw materials.
As Correia concluded, the international cooperation has been made a reality by starting the dialogue. Silos need to be broken down and 'one size fits all' solutions do not exist.
Schluep announced that international cooperation in primary and secundary raw materials management will further be discussed in Nancy, France, on June 27, 2018. This "FORAM 18" pilot event will be organised back to back with a business oriented two-day World Materials Forum and is open by invitation only. Expressions of interest can be sent to the FORAM team, or by writing to info@wrforum.org
Find here the press release about the launch of the International Raw Materials Observatory